[AD – Gifted. I was gifted an advance copy of Proud by the wonderful team at Stripes, in exchange for an honest review. All thoughts are my own and have not been affected by this.]
---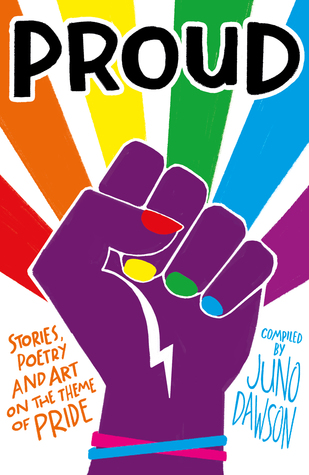 Proud Anthology
Format: Paperback, 350 pages.
Publisher: Stripes
Release Date: 7th March 2019
Blurb:
A stirring, bold and moving anthology of stories and poetry by top LGBTQ+ YA authors and new talent, giving their unique responses to the broad theme of pride. Each story has an illustration by an artist identifying as part of the LGBTQ+ community. Compiled by Juno Dawson, author of THIS BOOK IS GAY and CLEAN.
A celebration of LGBTQ+ talent, PROUD is a thought-provoking, funny, emotional read.
---
I was lucky enough to be at YALC when the cover of Proud was revealed, I remember being incredibly excited that there was going to be an anthology highlighting queer narratives! Although I'm not normally one for short stories or anthologies I made myself promise that I would give this one a go when it was released. What a surprise it was when I found it on my doorstep in the post (I may have excitedly squealed and then dove straight in), which was unexpected but I'm hugely grateful for! However, I was sad for two reasons, first that I wasn't able to sit down and write my review till now due to various matters, and secondly, I was gutted because I loved each and every one of these stories and wished that they were full feature length novels!
Filled with wonderful short stories, poetry and illustrations, Proud is an outstanding collection of representation for Queer voices and narratives. Bringing together already published authors such as; David Levithan, Tanya Byrne, Jess Vallance and Moira Fowley-Doyle and new fresh talents such as Cynthia So, Kay Staples and Karen Lawler. I loved the mix between known authors and new authors who we've never actually encountered before and because of that, I'm now excited to see what else these debut authors come up with.
Now I would love to talk about each story but I think if I did then this post would likely go on forever so I thought that I would give a shoutout to a few of my favourite stories that I read. I absolutely loved these ones and if I'm honest they were the ones which I wished were full-length novels: 'The Pheonix's Fault' By Cynthia So, 'Almost Certain' By Tanya Byrne, 'I Hate Darcy Pemberley' By Karen Lawler and 'The Instructor' By Jess Vallance. I also adored the artwork done by Alice Oseman for 'Penguins' and Frank Duffy's piece for 'Almost Certain' and Fatti Burke's for 'Love Poems to the City'. 
Of course, throughout there are many more stories and many other beautiful pieces of artwork but those are the ones which spoke to me the most. The ones which made me fall in love with this anthology and all it represents and makes me hopeful that within young adult fiction that we will see more queer narratives to feature. I'm especially excited to see what else the debut authors will have install for the future and cannot wait to pick up their future books.
Overall my impressions with Proud is that it is an outstanding collection of short stories which I adored and such a wonderful book to read that I recommend to everyone to pick up!
---
Have you read Proud? If so what were your favourite stories?